FORT Frame Geometry Reference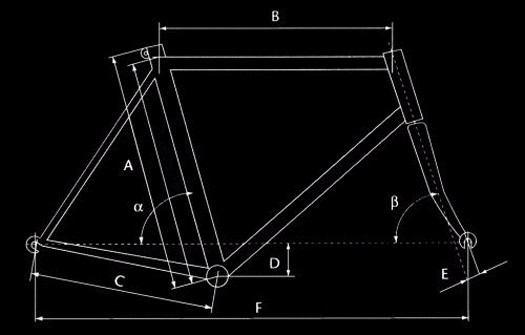 ---
Kompact (sloping) – Victor and SLC
Size: equivalent
BB to TT (top)
Seat tube angle (a)
Effective TT (B)
Chainstay (C)
Head tube length
Head tube angle (b)
Fork offset (E)
Wheel-
base (F)
XS: 48/50
40.cm
74.deg
51.8 cm
40.5 cm
109 mm
71.5
43 mm
97.1 cm
Sm: 52/54
45.0
74
54.2
40.5
129
72.5
43
97.9
Md: 56/57
49.0
73.5
56.5
40.5
159
73.3
43
99.4
Lg: 59/61
53.0
73
58.3
40.5
195
73.5
43
100.1
---
Triathlon/TT.Aero
Size: equivalents
BB to TT (top)
Seat tube angle (a)
Top tube (B)
Chainstay (C)
Head tube (integr.)
Head tube angle (b)
Fork offset (E)
Wheel-
base (F)
Sm: 52/54
50.0 cm
76 deg.
53.7 cm
40.0 cm
108 mm
73 deg.
43 mm
97.7 cm
Md: 56/58
54.0
75
56.3
40.0
140
73.0
43
99.2
Lg: 60/62
58.0
74.5
57.6
40.0
175
73.5
43
99.9
---
Cyclocross
Frame Size (ctr-top)
Head tube length
Seat tube angle(a)
Top tube (B)
Chainstay (C)
BB drop (D)
Head tube angle(b)
Fork offset (E)
Wheel-
base (F)
52
96 mm
74.0 deg.
54.0 cm
42.5 cm
58 mm
71.5 deg.
50 mm
101.7 cm
54
113
73.5
55.0
42.5
58
72
50
101.9
56
130
73.0
56.0
42.5
58
72.5
50
102
58
150
73
58.0
42.5
58
72.5
50
104.0
60
168
73.0
59.0
42.5
58
73.0
50
104.6
Notes on Fit:
Our various frames come in three different geometries: "Kompact" road geometry with full sloping top tube, Triathlon/TT geometry, and Cyclocross geometry with a horizontal top tube. Measurements of provided seat tubes are from BB to the top of the top tube intersection, not to the top of the seat clamp. Sloping frame seat clamp extension generally adds about 3-4cm above the top tube intersection line.
All sloping road frames are sized generally as Small, Medium, and Large in lieu of traditional seat tube measures. For most of these sloping frames, a numerical size equivalent is shown as a guide, this represents the closest comparable sizes in traditional terms. Gaps should be thought of as borderlines, thus a rider who typically rides a "55″ would probably find that he could fit either our Small or Medium "Kompact" frames, with the choice depending upon factors such as preferred stem lengths and head tube heights.
We hope you'll think of these variables as choices rather than complications. Unfortunately, even among traditional horizontal frames there are different methods of measuring frame size, with some companies measuring up to the top of the top tube, others measuring up to the center of the top tube, and still others measuring to the top of the seat tube clamp. So there simply is no convenient or truly standard reference for comparisons when talking about "size" in terms of the seat tube.
Consequently, many cyclists believe that top tube length is the only reliable way to compare sizes between different bikes or models. Top tube lengths are universally measured from Center to Center. Top tube measures of "Kompact" frames are provided here as "Effective TT", meaning the length along an imaginary horizontal line (i.e. from head tube to a spot on the seat post), so that comparisons can be made without factoring different angles of top tube slope.
We advise riders to remember that "fit" is a matter of how one's body fits a bike at the points of contact — the pedals (or consider the BB as the center of the pedaling circle), the handlebar, and the saddle. Stem lengths and angles, spacers, seatpost styles and saddle positions may all be manipulated to arrive at perfect positioning. In fact, a rider can conceivably arrive at exactly the same riding position on two near-sized frames, simply by his choices in stem and seatpost setup. While fore/aft balance, riding style, and other elements will factor, bike fit is mostly fine-tuned by the positioning of the handlebars and saddle. Think of a frame as the platform for mounting these other crucial components.
Obsessive scrutiny of frame sizes can be an obsolete or misplaced exercise, if not an outrageously commercial ploy (have you even wondered why the vendors who stress "Bike Fit" the hardest are also those selling the most expensive bikes?). In the 1980′s, when all frames, all seatposts, and all stems were of one style, it was necessary to choose frame size precisely, hence some companies made road frames in 1-cm increments. That is all changed now. Unfortunately, many self-appointed "experts" in bike fit these days have clung to out-dated notions, they routinely put cyclists into a box of their own narrow thinking. Fort Bicycles is happy to discuss fit issues with any interested party.